Studio Ousia AI "Sōseki" enters open beta
Moreover, two live Sōseki demos, a trivia master and a SXSW session navigator, will be showcased at SXSW 2021, held online from March 16th to 20th.
The state-of-the-art AI that comprehends meaning from documents: Sōseki
Sōseki is a state-of-the-art natural language AI that understands your private documents, and provides answers to questions based on the knowledge accumulated in the text. It finds passages that the user needs even if the keywords don't match.
The natural language processing technology powering Sōseki is proven to be top class. It has outperformed humans as well as all other AI models through its state-of-the-art results on five well-known datasets: Open Entity (entity typing), TACRED (relation classification), CoNLL-2003 (named entity recognition), ReCoRD (cloze-style question answering), and SQuAD 1.1 (extractive question answering). It was ranked second only behind Facebook in the Efficient Open-Domain Question Answering Competition, Systems under 6GB track held at NeurIPS 2020.
Sōseki's high performance is because of its ability to accurately understand the meaning of texts. We have developed a deep learning model that effectively captures world knowledge such as those that are available in Wikipedia, in addition to the linguistic knowledge captured in existing models.


Sōseki allows companies to create AI bots instantaneously from documents
Sōseki can help office staff to better navigate through the overwhelming amount of digital documents in the company, leading to increased productivity.
To use it, the admin can register documents in Sōseki. The software will understand the meaning in the documents and be able to find the passages that best answer a user's query.
Sōseki is a pre-trained model requiring no training data, and can be provided as an SDK that can be added to any document storage solution.
Additionally, an optional document search web application is provided for quick deployment.
Sōseki has been proven to be effective in searching training material for eyewear retailers, technical documentation in water treatment facilities and FAQs at an IT company.
Companies interested in using Sōseki should apply at https://soseki.ai


LIVE Sōseki demos at SXSW
To increase recognition of how far natural language processing technology has come and demonstrate Sōseki's ability, Studio Ousia will be showcasing 2 demos at SXSW.
Demo1: Trivia Master
Sōseki is able to search through large databases, and was added to a Wikipedia archive to allow users to search the accumulation of millions of people with the smartest AI.
We challenge everyone to ask Sōseki their favorite trivia question!
See https://demo.soseki.ai
Demo 2: SXSW Session Navigator
Sōseki is able to understand documents in a wide-range of topics. A database of SXSW session information was linked to Sōseki. Users can tweet their interest at @AiSoseki, and Sōseki will tweet back the session that best fits the topic.
Let Sōseki find the session at SXSW that you must see!
Tweet @AiSoseki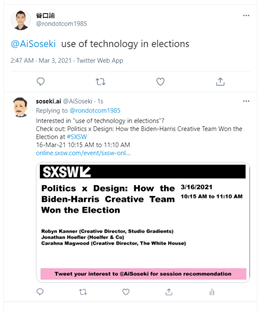 Speakers at SXSW are welcome to register additional information about their session to enhance the search suggestions. Please go to https://sxsw2021soseki.squarespace.com for more information


To learn more about the demos at SXSW 2021, please visit Sōseki's booth at Startup Village at http://bit.ly/soseki_sxsw